Dynamic Currency Conversion
Dynamic currency conversion (DCC) allows your international customers to pay in their domestic currency wherever they may be. This service not only offers your customers genuine added value, but you will also benefit from an additional commission with every transaction.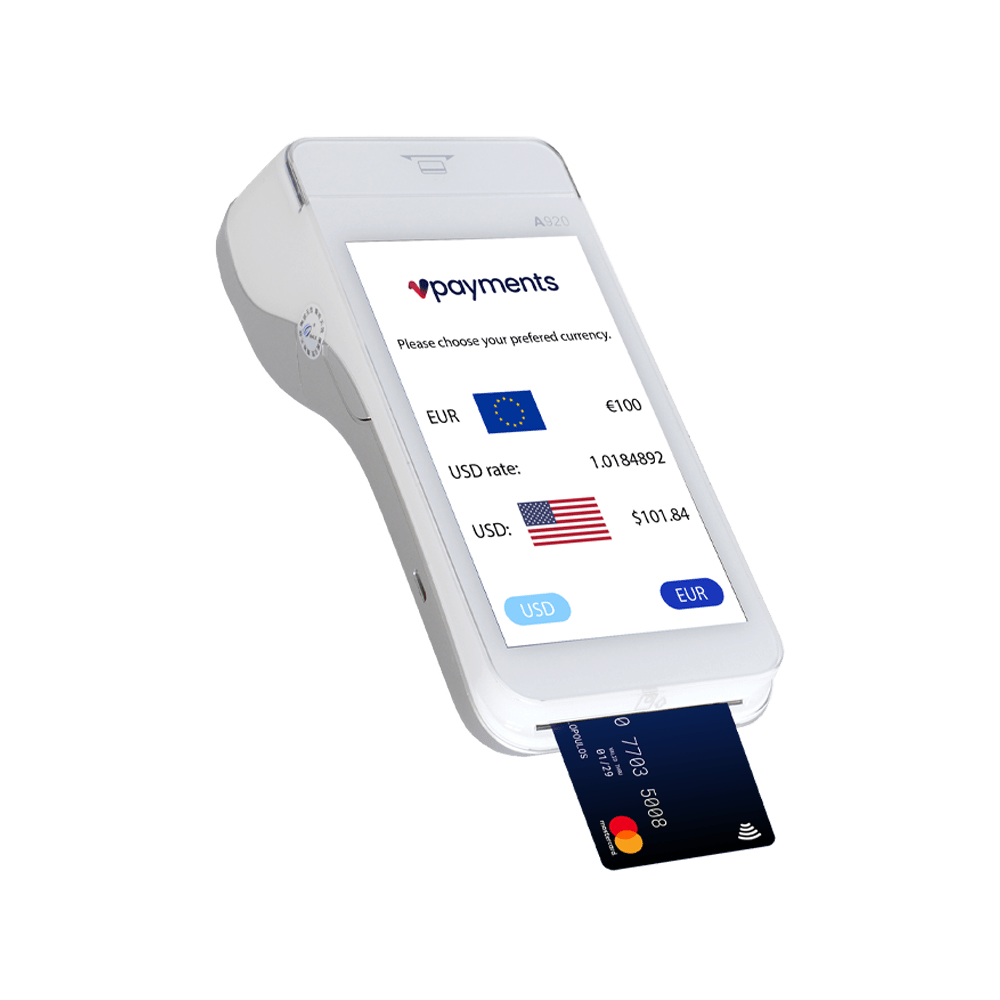 Additional functions for added profits
After we set up your dynamic currency conversion (DCC) service for free, your payment terminals will automatically recognize foreign cards and conveniently suggest customers pay in their usual currency. The buyer sees the total amount in their own currency, pushes a button to confirm the transaction – and will feel right at home. 
Thanks to our best rate guarantee, your customers will always enjoy the best possible exchange rate.
DCC enables you to meet the needs of your international customers even better than before. Plus, you'll also receive a tidy commission every time one of your customers pays with automatic currency conversion, which in turn reduces your overall costs.
Last but not least, the free DCC report means you will always have an overview of your additional revenues and any currently untapped savings potential.
Currency conversions at the touch of a button
DCC is available for the following currencies:
| | |
| --- | --- |
| AED | United Arab Emirates Dirham |
| ARS | Argentine Peso |
| AUD | Australian Dollar |
| AZN | Azerbaijani Manat |
| BGN | Bulgarian Lev |
| BHD | Bahrain Dinar |
| CAD | Canadian Dollar |
| CHF | Swiss Franc |
| CZK | Czech Koruna |
| COP | Columbian Peso |
| DKK | Danish Krone |
| EGP | Egyptian Pound |
| EUR | Euro |
| GBP | Pound Sterling |
| HKD | Honk Kong Dollar |
| HRK | Croatian Kuna |
| HUF | Hungarian Forint |
| | |
| --- | --- |
| ILS | Israeli New Shekel |
| INR | Indian Rupee |
| JPY | Japanese Yen |
| KRW | South Korean Won |
| KWD | Kuwaiti Dollar |
| MAD | Moroccan Dirham |
| MXN | Mexican Peso |
| MYR | Malaysian Ringgit |
| NOK | Norwegian Krone |
| NGN | Nigerian Naira |
| NZD | New Zealand Dollar |
| OMR | Rial Omani |
| PHP | Philippine Peso |
| PKR | Pakistan Rupee |
| PLN | Polish Zloty |
| QAR | Qatari Riyal |
| RON | Romanian New Leu |
| | |
| --- | --- |
| RSD | Serbian Dinar |
| RUB | Russian Ruble |
| SAR | Saudi Riyal |
| SEK | Swedish Krone |
| SGD | Singapore Dollar |
| THB | Thailand Baht |
| TND | Tunisian Dinar |
| TRY | Turkish Lira |
| TWD | New Taiwan Dollar |
| UAH | Ukrainian Hryvnia |
| USD | US Dollar |
| VND | Vietnamese Dong |
| ZAR | South African Rand |