POS terminals are much more than devices that accept payments. Reliable payment terminals with Vpayments are just what your business needs. These terminals have evolved into business-critical tools with key impacts on both customer experience and business operations.
Vpayments always has the perfect cashless payment solution on hand – precisely tailored to the specific requirements of your industry.
Payment Terminals
We live in the age of flexible solutions and payments through card terminals are no exception to this innovation wave. The wide variety of payment terminals allows your customers to pay from the comfort of their chair in a restaurant, in the back of a taxi or at the cash register.
Q80 – Desktop & Integrated Terminal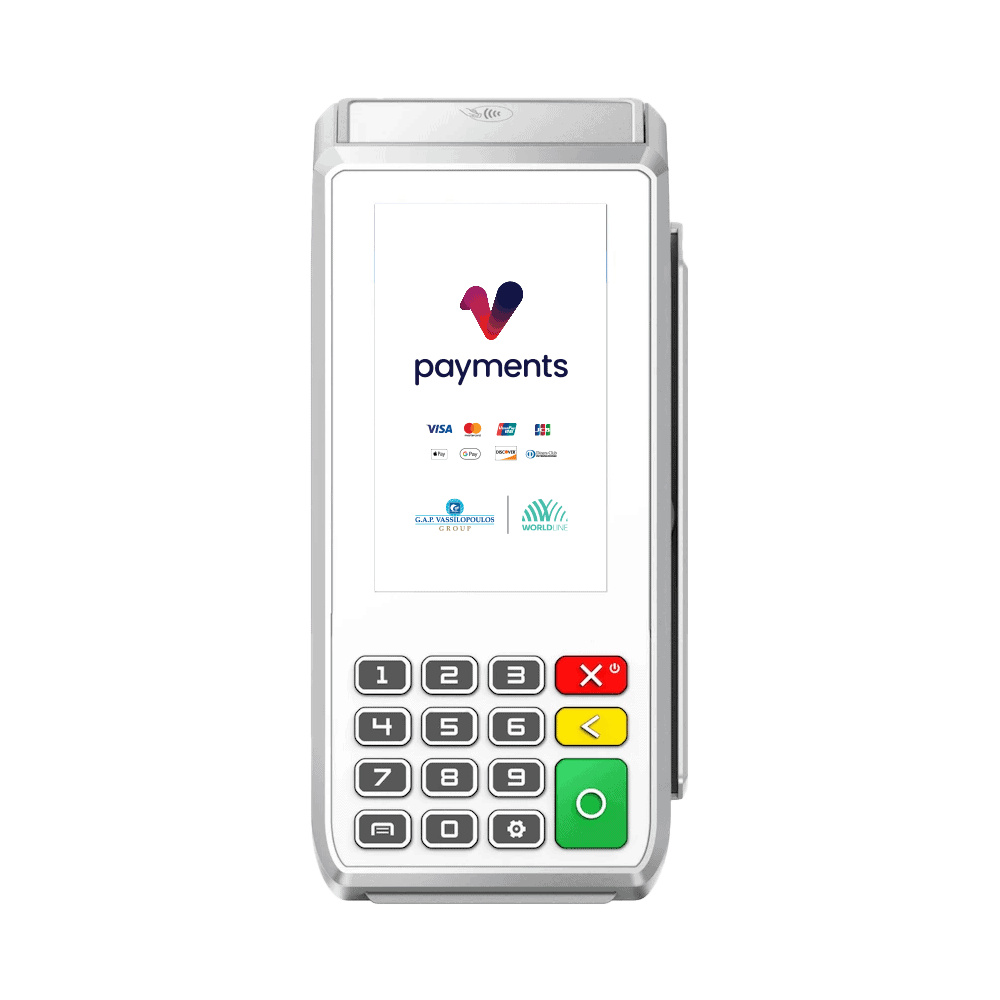 Reliable Countertop.
Q80 comes packed with state-of-the-art technology, exceptional levels of security and all required industry certifications.
With multiple connectivity options and a large bright colour touch screen, the Q80 enables merchants everywhere to accept any type of transaction, including a mobile wallet and NFC payments such as Apple Pay and Samsung Pay.
S920 – Mobile Terminal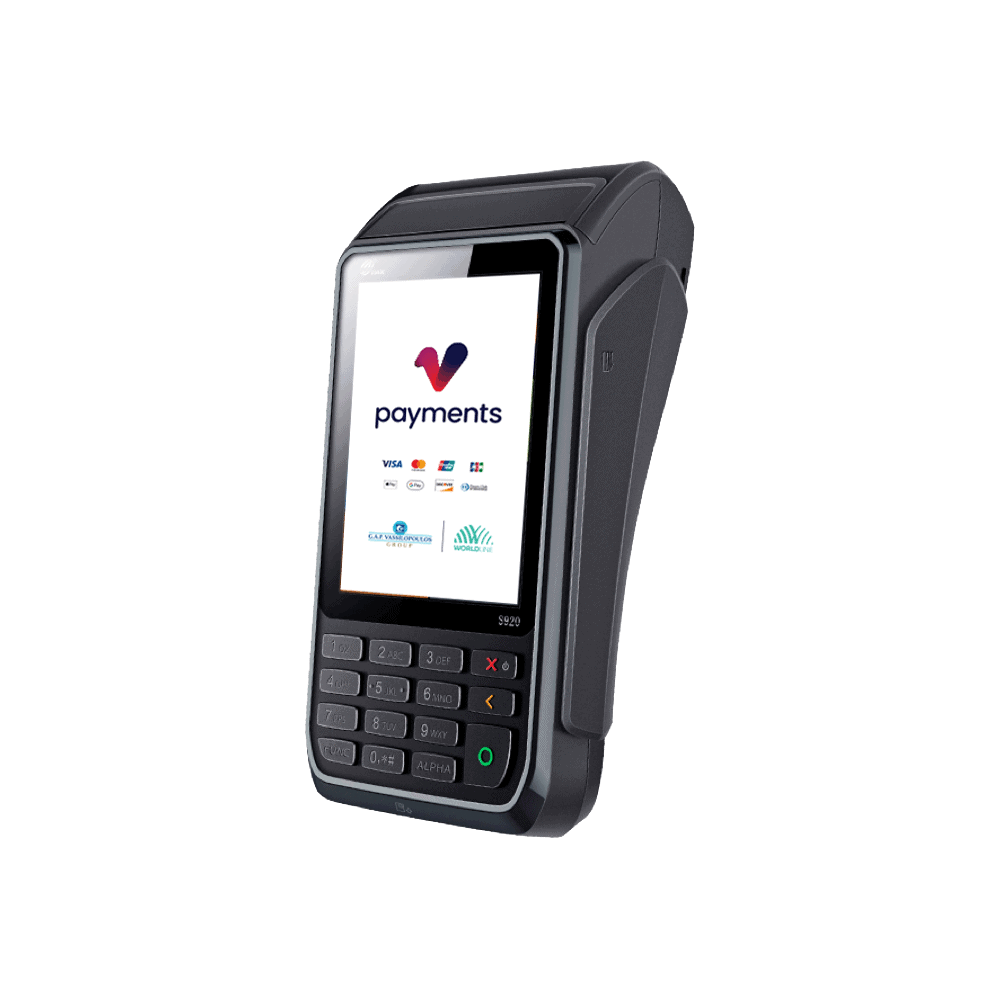 A favourite with high-end retail and hospitality merchants, the mobile S920 enables payments to be fast, seamless, and customer friendly.
The S920 is the world's sleekest compact mobile point of sale terminal, packed with the most complete range of payment industry certifications ever and is manufactured to the highest of global standards using state-of-the-art technology and high-end materials.
A920 – Mobile Terminal
Elegant. Smart. Mobile.
It combines the full features of an Android tablet with a powerful POS payment terminal, all in a sleek and compact design. Behind the A920's large HD screen lies a high capacity 5250mAh rechargeable Li-on battery for continuous operations throughout the day.
A920 Pro – Mobile Terminal
The A920 Pro can handle it all, from traditional card payments to mobile wallets to QR code transactions.
Thanks to its double memory, it is the ideal solution to host the most complex applications to manage table orders and loyalty with rewards catalogue. All perfectly integrated with any payment method.
With a faster processor, larger HD screen, professional infrared barcode scanner and a 5MP camera, it supports a wide range of advanced connectivity options, as well as NFC contactless, electronic signature capture and massive amounts of memory to enable exceptionally fast processing of payments and applications.
Desktop Terminals
This is ideal for new as well as small to medium businesses looking for an easy way to accept card payments.
Just plug in the cable and watch the money start flowing.
SoftPos – Mobile Terminal
Enter the future of payments. Transform your smartphone into a professional financial POS terminal.
Runs on all phones with NFC module and Android 8.0 OS or higher. Accepts payments with Google Pay, Apple Pay wallets, and wearables. Vpayments enables acceptance of contactless payments made with plastic cards and any of its virtual equivalents like Apple Pay, Google Pay and any other virtual wallets.
Worldline Softpos is sustainable. Transaction confirmation is digital; no paper is wasted on printing it!
Unattended Terminals
From gas stations and vending machines to parking lots and automated supermarket checkouts, self-service payment is becoming the new payment norm. A new generation for an unattended experience designed to increase unattended sales.
IM30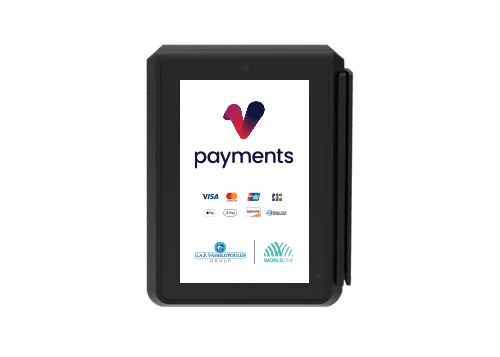 Formidable. Smart. Unattended.
The IM30 is the newest state-of-the-art self-service terminal on the market, an all-in-one ruggedised device with all required industry certifications, advanced connectivity and accepting any form of payment.
It is designed to increase sales, implement security, and be impervious to environmental damage. It combines all the cool benefits of Android with the robustness of unattended products, so you can generate new revenue streams in any self-service environment.
Get in touch
One of the strongest pillars of Vpayments is building meaningful and long-term relationships with our customers. These relationships are nurtured through honest and transparent communication.
Contact us by email, or phone and organize a meeting with our team so that we can discuss anything you need.